Winners of the Downtown Eau Claire Annual Awards
Last night, I was able to attend the downtown annual awards banquet at the new Lismore hotel in downtown Eau Claire. This past year, My Receptionist partnered with Downtown Eau Claire, Inc. (DECI) to sponsor events downtown. We sponsored the Our City Spring Cleanup, Grand Evening on the Bridge, Jump-Start business competition, and International Fall Festival. Downtown Eau Claire, Inc. presented us with a downtown Eau Claire themed clock to display in our office! As well as successful businesses staying downtown, many new businesses are popping up throughout downtown Eau Claire. The awards banquet honors successful businesses in the downtown community. 
Here are the winners: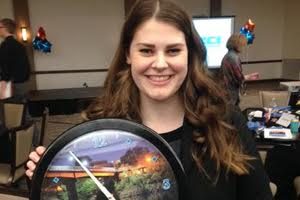 Downtown Construction Project of the Year:  The Lismore
Downtown Renovation Project of the Year:  Lazy Monk Brewing
Downtown Best New Business: The Brewing Projekt
Downtown Experience Award:  Sounds Like Summer Concert Series
Favorite Restaurant/ Bar/ Shop Downtown:  Lazy Monk Brewing
Above and Beyond:  Houligans Steak & Seafood Pub
Volunteer of the Year:  Carrie Bodenburg
DECI Member of the Year:  Xcel Energy
Downtown First Award:  Eau Claire Noon Rotary Club
Congratulations to all the winners! 
Eau Claire seems to be steering in the right direction towards a more revitalized downtown! We're excited to see what the downtown community will be doing next!
How will My Receptionist
help your business?