What is Food Insecurity?
What exactly is "food insecurity"? The USDA defines food insecurity as "consistent access to adequate food is limited by a lack of money and other resources at times during the year." Food insecurity can be a challenging for students while they are trying to learn at school. This insecurity can affect children's brain development, school outcomes, and behavior.
The Prairie Ridge Early Learning School in Eau Claire, WI started a committee a few years ago to combat the issue of food insecurity in the school. Since starting the committee, many changes have taken effect to help students and their families. The school now has a food pantry available to students and families. There's also a community garden to teach the students the importance of growing and eating nutritious foods. After the fruits and vegetables are harvested, educators will teach students and families how to preserve the food from the garden! Along with all of these worthwhile and educational activities the Fight Against Hunger Committee has also organized a crockpot project, to provide families with a crockpot and ingredients for the family to make a meal. These are perfect meals for families in need of a simple, nutritious meal to feed their families after a long day.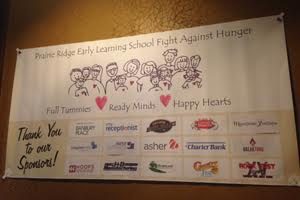 Last night, a few employees from My Receptionist attended the Night to Fight Hunger hosted by the Fight Against Hunger Committee. While at this fundraiser, we learned more about the needs of the students and their families at the Prairie Ridge Early Childhood School in the Eau Claire. The school provides early childhood education to students ages 3-5. About 70% of students at the Prairie Ridge School qualify for free or reduced lunch. In Eau Claire County there
are an estimated one in five adults and children who are food insecure. These numbers can be difficult to hear and very staggering, so we've decided to help out with what we can! My Receptionist is proud to sponsor the Prairie Ridge Early Learning School's Fight Against Hunger! We're all working towards a food secure future for all families in the Eau Claire community and beyond.
How will My Receptionist
help your business?