New Year, New Phone Answering Service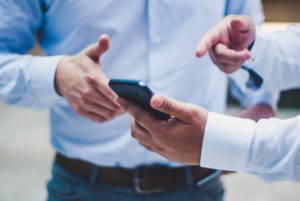 It's a new year, a new decade, and about time for you to switch to a new phone answering service. Because why would you start off your new year with the same old, worn-out, unreliable service you've been using in the past when you can instead work with a company that has everything you want and need?
Let's look at the areas you should consider when looking to switch your phone answering service – it doesn't have to be hard and it doesn't have to be complicated, in fact, we've narrowed it down to just three areas you should check before switching:
Ease of Use
Pricing Flexibility
Features Available
You deserve a new phone answering service, one that is easy to use, easy to pay, and has all the unique features you and your business need – because you and your business aren't cookie-cutter, so why is your phone answering service?
Choose a New Phone Answering Service for its Ease of Use
When you're searching for a new phone answering service, it's essential to make sure it is user-friendly, because even if it's the best service in the world, if you can't understand it or have to take hours of your time to learn it – then what's the point?
Luckily, our process is as easy as 1, 2, 3!
Your Clients Call:
Your calls ring through to My Receptionist any time you designate them to be forwarded. We'll provide you the forwarding number, which means you will always keep your current published number.
We Answer Your Business Calls:
A warm, friendly receptionist greets your caller and gathers info based on your specific call handling instructions or virtual receptionist appointment booking and setting options.
You Get Happy Clients:
We'll forward your calls, take messages and send you the info (email, text, CRM, anything) or schedule the appointment. This leaves your clients happy and your business running smoothly and efficiently.
Choose a New Phone Answering Service for its Price Flexibility
If your current phone answering service doesn't give you the pricing flexibility you want – why are you staying with them? You shouldn't have to settle and overpay for services you don't need, or not get the services you want because they aren't included in your package.
Make sure you are getting exactly what you want, at a fair price – check out our phone answering service pricing below:

Variety might be the spice of life, but having options is the dessert of life.
Choose a New Phone Answering Service for its Many Features
Just like ease and pricing – if you aren't getting the features you want and need, then is your phone answering service really of service to you? Ask your new phone answering service what features and options they have.
Maybe you truly just need a friendly voice on the other end of the line, but maybe your business has other needs like online scheduling, appointment reminders, and secure mobile messaging.
Online Scheduling 
Our online scheduling platform has been the industry-leading software since 2001. Our clients range from small businesses to Fortune 500 companies – so you know it's both affordable and quality.
As one of our online scheduling clients, you'll receive a reduced rate on the tools you need to seamlessly integrate your receptionist service and appointment-booking process – all online!
Appointment Reminders
Missed appointments cost you money, in fact, this is one of the largest monetary drains on your office. But with today's busy lifestyles, it's easier than ever to forget about that doctor or dentist appointment, or even an off-site meeting.
My Receptionist can call your clients and remind them of upcoming appointments, so they have time to reschedule and you can re-fill that slot, or they remember to show up. Simply provide us with your appointment schedule, and we'll do the rest!
Secure Mobile Messaging
Secure, two-way smartphone, smartwatch, and tablet messaging are perfect for your entire enterprise. Protect your patients and organization when you use secure messages to send encrypted messages with your Android, Apple, or Windows device.
You Deserve a New Phone Answering Service for Your Business – & the New Year is a Great Time to Switch!
It's a new year and the perfect time to switch to a new phone answering system – especially if they don't offer flexible pricing plans, the features you need, or the ease of use you want.
Give My Receptionist a call today and see how we can upgrade your phone answering service with just one call! We're standing by and waiting to talk to you!
How will My Receptionist
help your business?