Why Law Firms Should Consider Answering Service for Attorneys for Improved Client Experience
Law firm-client relations have revolutionized considerably over the last few years. Although basic principles like confidentiality and trust have remained constant, other client expectations have changed substantially. It's crucial to look at the bigger picture to understand client experiences; a satisfactory experience five decades ago may seem completely unacceptable today, and vice-versa. 
Running a legal practice successfully and standing from the crowd requires more than delivering results or work experience to your clients. As the industry changes around clients, legal experts cannot thrive without adopting a customer-centric approach or providing top-notch customer satisfaction. 
When clients associate with their lawyers, they anticipate their work to be handled with top expertise. However, they expect their lawyers to maintain a respectful and professional relationship throughout the case. Practices such as promptly answering their calls and emails and maintaining honest and reliable terms with the client can help lawyers go the extra mile to succeed. If you dedicate ample time to improve your customer service, your business reputation will also increase, resulting in more business growth in the long run. 
Research shows that United States businesses lose $62 billion in revenue annually from terrible customer service. In this guide, we'll look at how an answering service for attorneys can help your business thrive. 
The Significance of Client Experience in Law Firms
There are many reasons why the client experience and providing a quality service is important. Here are a few reasons to key into:
Creates an Enjoyable Experience for the Customers
Usually, it's not always the most favorable scenario for clients to visit a law firm. For instance, when looking for litigation service, the stressful and cost-intensive nature of the legal battle can take a toll on clients and frustrate them. As a result, if you treat them with respect and empathy and show genuine interest, they'll enjoy working with you, which can also create a better work environment across your legal firm.
Helps to Retain Loyal Clients
The legal business is always changing and never goes out of trend. Many people, such as small business owners, require the services of a lawyer throughout their work cycle. When satisfied with the overall experience and services, your customers will most likely return to you when they need a lawyer again. In such a competitive industry, where it's very easy to get replaced, ensuring quality customer experience is often the only way to gain and retain loyal clients. 
Legal services are costly for consumers as they can spend hundreds or even thousands of dollars for a quality lawyer. If your firm has expertise but lacks quality customer service, customers will likely leave you as they pay such high amounts for a top-quality overall experience. As a result, your fees get valued and justified only when you provide services to achieve client satisfaction. 
Improves Market Reputation
With social platforms and the internet trending exponentially, clients quickly leave reviews about your services. Developing an excellent customer experience will ensure they talk positively about your firm on social platforms and in person. This creates a good online reputation for your law firm, which will help attract more clients. 
Creates a Great Work Environment
When your firm provides excellent overall services, it doesn't only make your clients happy. It also makes your workers happy, as praise and profit are the major rewards an employee gets for their work. With improved job satisfaction, your employees will work with increased morale, and your firm will only see success.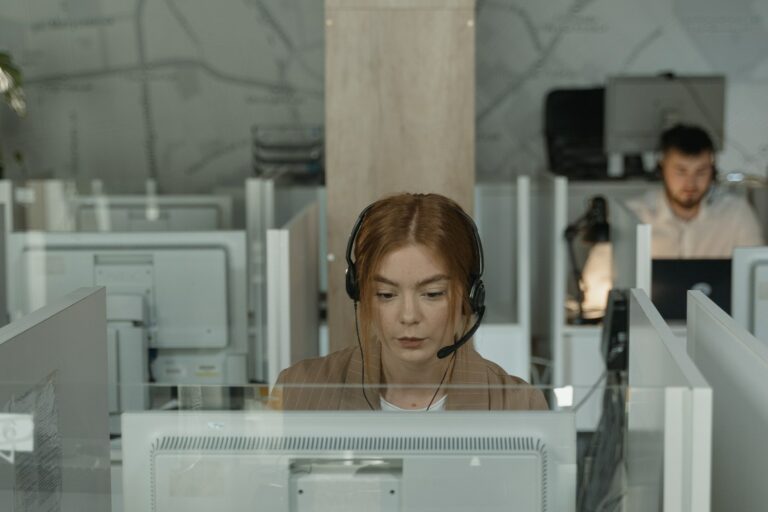 The Role of an Answering Service for Attorneys
The success of your law firm centers on how you create new and existing relationships with customers. A virtual receptionist or an answering service for attorneys guarantees smooth communication between your law firm and your clients. A virtual receptionist or an answering service for attorneys supports law firms in managing incoming inquiries and calls, ensuring quick call handling, accurate information capture, and message forwarding. This is especially important when your business has closed, ensuring you'll never miss a call again. 
Below are the benefits of a dedicated service that understands the unique needs of legal professionals:
Answering Service for Attorneys Benefit #1: Enhancing Communication and Responsiveness
An answering service for attorneys or an answering service handles all your calls and routing for you, thus eliminating the need for you or your assistant. This means you'll have more time to focus on the legal and in-house tasks on your behalf. A reliable communication method and conducting business are important, and a virtual assistant tailored to your specific needs is a great solution. This also helps improve communication and responsiveness, further increasing your business productivity. Besides, 24/7 availability ensures that your clients can reach your firm anytime. 
Answering Service for Attorneys Benefit #2: Personalized Client Interactions with Virtual Receptionists
Virtual receptionists are highly trained to ensure personalized client interactions, especially when they specialize in your industry. They can greet customers, answer basic inquiries, and direct calls to the appropriate department or attorney, which makes your firm appear more professional. Besides, customers prefer a human touch when they reach a business, and this personalized interaction leads to improved satisfaction and increased revenues. 
Answering Service for Attorneys Benefit #3: Appointment Scheduling and Calendar Management
By giving access to a virtual receptionist for attorneys access to your work schedule, they can help set appointments according to your availability. This helps your calendar and schedule run smoothly with reduced delays, which translates to happy clients who will feel valued by your firm. Your virtual receptionist can also confirm appointments with clients without wasting time. This personal touch eliminates any possible confusion and delays, making your business thrive and stand out. 
Answering Service for Attorneys Benefit #4: Cut Down Your Costs
Hiring a full-time in-house virtual answering service for attorneys or receptionist requires interviewing several candidates and paying them full-time benefits and salaries, which can cost up to $50,000 annually. These dedicated virtual assistants can transform your firm and save you money. Besides, this type of attorney answering service is always available 24/7, and you can use it only when you need the services. 
Other benefits of hiring an answering service for attorneys include the following:
It ensures that you never miss a call again

Capture more leads with ease

Easily schedule meetings

Make your firm appear professional

Easily customizable to your needs

Guarantees efficiency

Connect with remote staff

Provide bilingual services

Focus on other key areas

Improve your online presence
Knowledge and expertise are important, but without clients, they can't solely scale your law firm. Client satisfaction is the catalyst to grow your firm and stand out from the competitive legal industry. Only through happy and satisfied clients can you gain more leads, maintain your reputation and improve ROI, among other benefits. Clients are the legal industry's primary focus; hence, their legal experience can build or break your legal practice.
When running your legal firm and improving your legal skills, ensure you provide top-notch customer experience. However, building a customer-centric environment in your firm is not a single-day task. Fortunately, working with an answering service for attorneys or virtual receptionists can improve your client satisfaction. Click here to learn more, or contact us to get started.
How will My Receptionist
help your business?